Skip to Content
How to Find the Perfect Roofer
Not sure how to find a Panama City roof contractor for your next project? Here's a step-by-step guide on how to find the perfect roofer for the job.
Qualifications

Why Hire a Roofing Contractor?
The best roofing company in Panama City can be hard to find. But it's worth taking the time to find a qualified one because a roof is a crucial part of your home. A roofing contractor should be:
Experienced

Licensed in your area

Insured

Bonded

Willing to provide references

Willing to write an estimate
Services a Roofer Offers
When it comes to roof repair and replacement in Panama City, there's a lot to consider. From roof inspections to installation and replacement, it's important to find a roofing contractor who can handle all of your needs. Some common roofing services include:
 roof inspections to check for leaks, damage, and weatherproofing;

 Roof repairs and maintenance;

 installation or replacement;

 sealing, treating, or painting (especially for wood or metal roofs);
It's also a good idea to ask roofers if they can complete other services, like gutters, siding, and windows. Tackling roofing and gutters at the same time can save you money in the long run since the contractor will already be on-site.
How to Hire the best Roofing Contractor
If you're thinking about getting some work done on your roof, you've probably considered hiring either an independent contractor or a Panama City roofing company. Both have their pros and cons, so be sure to compare bids and roofer reviews before making your final decision. 
Independent contractors might be a better choice for quick repairs. Because they work alone or with subcontractors, larger projects might take longer to finish. On the plus side, they might specialize in a certain type of roofing. Hiring an individual comes with its risks, but it also means you'll get to work with the same person from start to finish. 
Roofing companies in Panama City are more likely to be able to complete big jobs quickly, and their work is usually covered by manufacturer warranties. Many also offer discounts or free consultations. However, you might not have the same point of contact throughout the project. 
No matter what you decide, be sure to do your research before hiring anyone to work on your roof!
Questions to Ask a Roofer in Panama City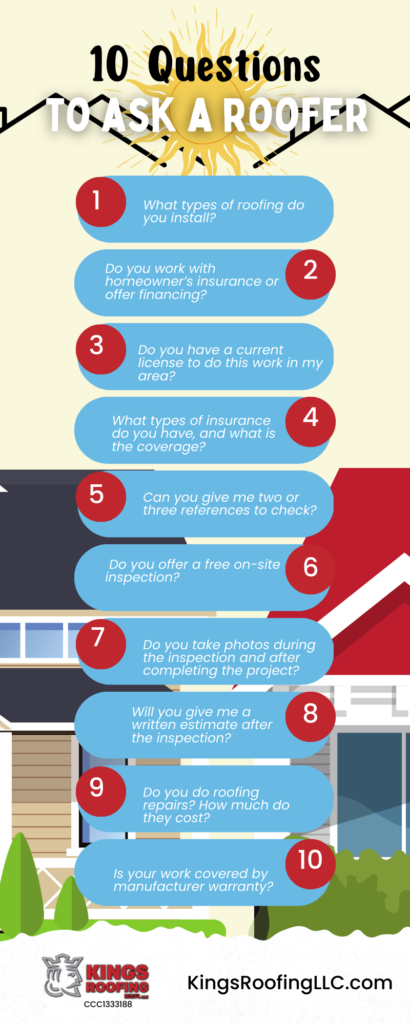 Asking the right questions is key to hiring the perfect roofer for the job. Here are 10 essential questions you need to ask:
What types of roofing do you install? 

Do you work with homeowner's insurance to file claims? 

Do you have a current license to do this work in my area? 

What types of insurance do you have, and what is the coverage? 

Can you give me two or three references to check? 

Do you offer a free on-site inspection? 

Do you take photos during the inspection and after completing the project? 

Will you give me a written estimate after the inspection? 

Do you do roofing repairs? How much do they cost? 

Is your work covered by a manufacturer warranty?
Choosing the Right Roofing Contractor
When you're looking for roofing contractors, always get bids from a few different companies. You can choose the contractor in the middle, the one with the lowest price, or the one with the best availability. With the right budget, you might even choose the residential and commercial roofer with the highest estimate and the most experience.
No matter which bid you choose, make sure your roofer has the right qualifications. If you already know what type of roofing you want, you may have fewer contractors to choose from. Most roofers in Panama City can install and repair asphalt shingles, but fewer have experience with materials like cedar shake, clay tiles, or natural slate. Door-to-door bids can be predatory, so if local roofers reach out to you about repairing or replacing your roof, check their license, insurance, and references before accepting their bid.
Get a Free Estimate From Kings Roofing NWFL, LLC
We can help with all your roofing needs, from installing a new roof for a new build to repairing or replacing a damaged or leaking roof. Our experienced roofing professionals serve customers in Pensacola, Perdido Key, Gulf Breeze, Navarre, Pace, Milton, Mary Esther, Miramar Beach, Panama City, Destin, Port Charlotte, Rosemary Beach, Defuniak Springs, Niceville, and nearby Florida cities. With Kings, you can rest assured that your roofing project will be completed to the highest standards. Contact us to get a free estimate.