Skip to Content
A Destin Roofing Company Suggests 3 Ways to Keep Your Roof Safe While Hanging Holiday Lights
A Destin Roofing Company Suggests 3 Ways to Keep Your Roof Safe While Hanging Holiday Lights – A trusted Destin roofing company understands how exciting it can be to hang holiday lights from your roof and gutters. It's a great way to make your home feel more festive and surefire to make sure you're the coolest house on the block. However, decorating your home's roof is also a dangerous and daunting task, so it's important to make sure that both you and your roof are safe throughout the project.
At Kings Roofing, we strive to be a leader of Destin, FL roofing companies and always ensure that our customers' needs come first. We specialize in roof repairs, replacements, installations, and providing metal roofs. Our team of expert contractors has the knowledge and expertise to provide your home with a beautiful new roof or repair your old roof to leave it looking as good as new.
It's important to make sure that you and your roof stay safe when hanging holiday lights this season; that's why we've compiled a list of 3 ways to keep you and your roof safe while trying to make your home look more festive.
1. Make Sure You Have All The Proper Safety Gear Before You Start
According to a trusted Destin, FL roofing company, it's critical to make sure that you have all the proper safety gear before you begin putting up the lights. Roofing companies suggest not accessing the roof unless you have prior roofing experience and all the necessary safety equipment, like a harness.
It's crucial that you have all the necessary gear to put up your holiday lights safely. Destin roofing companies suggest using:
Safety goggles
Work gloves
Flashlight (for hard-to-see places or if you're working at night)
Safety hat/helmet (if you're putting heavy lights above your head)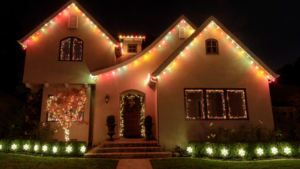 The best roofing company in Destin, FL, suggests mapping out where you want to hang all of your lights before you start. This helps ensure that you understand where everything goes before you step up on a ladder or access your roof, reducing the likelihood of an accident that could hurt both you and your roof.
3. Don't Put Any Heavy Lights on Your Roof
A trusted roof repair company in Destin, FL, suggests not putting any heavy lights on your roof because they could actually cause it to cave-in. You shouldn't access your roof at all if you don't have any prior roofing experience; it's just as important not to put anything too heavy on your roof to prevent a cave-in.
Santa and his reindeer on the roof is a popular holiday decoration. However, this leaves your roof more vulnerable to damage, so it's probably best to skip this idea and let Santa land on the front lawn.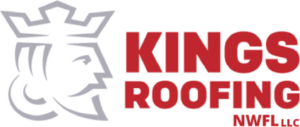 At Kings Roofing, we pride ourselves on our knowledgeable roofing contractors' professional, friendly services and strive to be one of the best Destin, FL roofing companies. We specialize in roof repairs, installations, commercial, and metal roofs in the Destin, Pensacola, Panama City, Port Charlotte, and Tallahassee areas, as well as other surrounding neighborhoods.
You can contact us online today for a free roofing quote or give us a call at 850-215-0423 to speak with a specialist about your Destin roof.