Skip to Content
Destin, FL Roofing Companies Give 3 Ways To Fix Your Roof's Ventilation Problems
Destin, FL Roofing Companies Give 3 Ways To Fix Your Roof's Ventilation Problems – Leading Destin, FL, roofing companies understand how frustrating ventilation problems can be. These problems not only raise your energy bill but can cause damage to your roof and lower its overall lifespan. If you've noticed that your home is uncomfortably hot or cold, you probably have ventilation issues. The same could be said for a moldy, damp attic and a deteriorating roof.
At Kings Roofing, we strive to be a leading Destin roofing company and always ensure that our customers' needs come first. We specialize in roof repairs, replacements, installations, and providing metal roofs. Our team of expert contractors has the knowledge and expertise to provide your home with a beautiful new roof or repair your old roof to leave it looking as good as new.
Ventilation problems can cause a lot of damage to your roof, so it's important to fix it right away; that's why we've compiled a list of 3 ways to fix your roof's ventilation problems.
1. Install Attic Intake Vents
The best roofing company in Destin, FL, suggests installing attic intake vents if your home has ventilation problems. Soffit vents are typically the best to keep air flowing properly in your attic. They are installed along your drip edge on the underside of your roof and provide adequate intake airflow.
According to the best roofing companies in Destin, this means that you will get enough entering your home and leaving it, reducing the likelihood of hot air getting trapped and damaging your roof.
Improper insulation is the culprit of most ventilation problems. If you notice that your home is at an uncomfortable temperature, the best roofer in Destin, FL, suggests checking how much insulation is in your attic. Ventilation and insulation work together to keep your home at a comfortable temperature, so it's important to make sure both are working correctly.
Insulation helps maintain your home's internal temperature by providing an additional barrier against the outside world. If your attic doesn't have enough insulation, your home won't be able to maintain a comfortable temperature.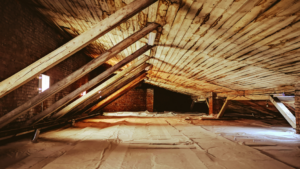 3. Install Roofing Exhaust Vents
According to a trusted roof repair company in Destin, FL, your home should have one roof vent for every 150-300 square feet of attic space. The average attics are between 1,600-1,800 square feet, so they need anywhere from 6-12 vents.
Exhaust vents, also known as ridge vents, are set at the roof's peak, where air naturally rises. These vents allow the excess air to leave your home and prevent it from being trapped and causing damage to your roof. If your ridge vents aren't providing enough release, you can also install gable events at the ends of your roof to help release any of the extra air stuck in your attic.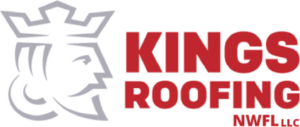 At Kings Roofing, we pride ourselves on our knowledgeable roofing contractors' professional, friendly services and strive to be the best Destin roofing company. We specialize in roof repairs, installations, commercial, and metal roofs in the Destin, Pensacola, Panama City, and Tallahassee areas, as well as other surrounding neighborhoods.
You can contact us online today for a free roofing quote or give us a call at 850-215-0423 to speak with a specialist about your Destin roof.