Skip to Content
Color Options for Your Metal Roof; Tips from a Pensacola Roofing Company
From Pensacola to Tallahassee and all throughout the Florida Panhandle, many homeowners are experiencing the benefits of a metal roof for their residence. As a trusted Pensacola roofing company, our professionals at Kings Roofing have been recommending metal to our customers for many years, and for good reason.
Metal is one of the most durable roofing materials on the market and has been known to last over 50 years in some cases. Its durability during severe weather, high-intensity heat, and its fire-resistance are some of the qualities that set metal apart from other roofing options.
However, according to Pensacola roofing companies, one of the most popular benefits of a metal roof is its curb appeal. Many homeowners are upgrading to metal to not only improve the quality of their home but to improve its overall aesthetic appearance. One important decision when choosing a metal roof is selecting the perfect color, and as a leading Pensacola roofing company, Kings Roofing has some tips on how to choose a color that is the right fit for your home.

Choose a Color That's Energy Efficient
One reason roofers in Pensacola recommend metal roofs is because they deflect away the sun's heat, which helps increase your home's energy efficiency, especially during the summer. Metal does not absorb heat like many other roofing materials do, so it can lower your home's internal temperature significantly.
So to stay as energy-efficient as possible, Pensacola metal roof contractors recommend choosing a light color such as white, light bronze, light green, blue, or peach. Darker colors tend to attract more heat, so it is best to avoid black or other dark shades for your roof, according to Pensacola, FL roofing companies.

Choose a Color That Matches the Rest of Your Home
Whatever color you decide for your roof, just make sure it is a good match with the rest of your home. So if your home is painted with a white exterior, choose a roof color that will balance that out a bit. Or, if you fall in love with a specific color for your roof, you may need to paint your home's exterior in order to create a good match between the exterior walls and your roof. Consult a painting expert and a trusted Pensacola roofing company for their opinions before you make your final decisions.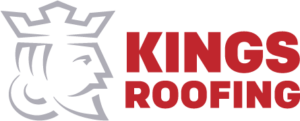 As a dependable roofing company in Pensacola for over three decades, Kings Roofing has provided high-quality roofing solutions for our valued customers and we would love the opportunity to take care of your roofing needs as well. Give us a call at (850) 439-5700 or contact us online for a free estimate.
We look forward to hearing from you.