Skip to Content
When Does Your Roof Need an Emergency Repair?
A Panama City, FL roofing company knows that sometimes emergency repairs are necessary. Letting roofing problems go unchecked for too long can cause significant damage to your home. It's important to stay vigilant and regularly inspect your roof.
If you notice any damage or issues with your roof, you should contact a roofing contractor immediately. At Kings Roofing, a leader among Panama City roofing companies, we want to help keep your roof in its best condition. That's why we offer the very best in roof repair services.
Below are typical signs that your roof needs to be repaired immediately.
Your Ceiling is Leaking
According to Panama City, FL roofing companies, you should have your roof repaired if your ceiling is leaking. Leaks never get better on their own, only worse.
A leaking ceiling is an indicator of water damage on your roof. Water can seep into your walls and damage your home's insulation. This could cost you hundreds of dollars, if not more.
Your Flashing is Damaged or Missing
According to a roof repair company in Panama City, FL, flashing is the thin steel material that directs water away from your roof. You can find it along chimneys, vents, and skylights.
If your flashing is broken, missing, or rusted, it won't work like it's supposed to. This can lead to more water damage to your roof and in your home.

You Have Broken or Missing Shingles
A roof repair company in Panama City knows how detrimental broken or missing shingles can be to your roof. If there are any cracks or holes in your home's shingles, water could easily enter your roof.
Missing shingles also leave your home more exposed to the elements. This could leave you with holes, cracks, and leaks that will need to be repaired.
You Notice Large Cracks in Your Roof
According to a roofing company in Panama City, large cracks in your roof are cause for concern. It not only leaves your home open to water damage but can affect your roof's structure.
This is an issue that definitely cannot be ignored. Large cracks usually occur with deterioration over time or after high winds.
It's important to make the necessary emergency repairs on your roof. Letting issues go unchecked for too long can cause more damage and cost more money.
You should contact a Panama City roofer immediately if you notice any damage. Common signs of damage are ceiling leaks, broken or missing flashing, and broken or missing shingles. You should also be vigilant and look for roof cracks that may have developed over time.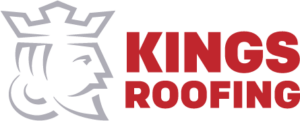 Kings Roofing is one of the most trusted Panama City roofing companies that specializes in roof repairs, installations, and metal roofs. We service both residential and commercial buildings in Panama City, Destin, Tallahassee, Pensacola, and numerous other neighboring communities.
You can contact us online today for a free quote or give us a call at 850-215-0423 to speak with a roofing specialist about your Panama City roof.