Skip to Content
Signs You Need to Hire a Pensacola Roofer
Did you know that having a roofing company in Pensacola regularly inspect your roof is a great way to ensure that it stays in its best condition? Your roof keeps your home and family protected, so it must perform at its best. It's a roofing company's job to install, repair, and replace any broken or missing parts of your home or business's roof.
At Kings Roofing, one of the top roofing companies in Pensacola, we want to help you keep your home or business's roof in its best possible shape. That's why it's important to hire a roofing contractor as soon as you notice problems with your roof. We've compiled some common signs that indicate you need to hire a Pensacola roofer.
You Notice Leaks from Your Ceiling
According to a roofer in Pensacola, leaks in your ceiling are usually an indicator of a bigger problem. Leaks typically happen because the rubber seals or metal flashing on your roof have broken. These damaged items are easy to replace and can help reduce the likelihood of leaks for years to come.
Your Roof Has Broken, Damaged, or Missing Shingles
Broken, damaged, or missing shingles leave your roof more susceptible to damage. According to a Pensacola roofing company, the longer you let this damage set, the more severe it could become. You should have any curling, cracked, or buckling shingles replaced immediately. However, shingles with minor repairs might be able to be repaired.

You Notice Light in Your Attic
A roof repair company in Pensacola wants you to know that light streaming through your roof into your attic is never a good sign. If you notice beams of light shining into your attic, your roof has cracks that can lead to detrimental, expensive problems. You should contact a roofing contractor immediately.
You Notice Mold or Mildew Growth
Mold or mildew growth is a sign that water has begun to pool on your roof. This bacteria growth is not only harmful and can make you and your family sick but can cause structural damage. The pooling water can seep into your home and damage its foundation. Many Pensacola roofing companies are available for immediate help if detect mold or mildew growth.
Your Roof is Old
Perhaps one of the most common reasons for hiring a roofing contractor is that your roof is old. Many roofs are only built to last more than 20 years. The closer it gets to the end of its lifespan, the more problems your roof can have. It's best to have a roofing company inspect your roof at least once a year if it is nearing the end of its lifespan.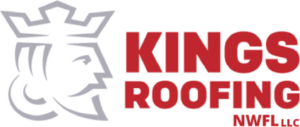 Kings Roofing is one of the best roofing companies in Pensacola, specializing in roof installations, replacements, and metal roofs. We service both residential and commercial buildings in Pensacola, Panama City, Tallahassee, Destin, and numerous other neighboring communities.
You can contact us online today for a free roofing quote or give us a call at 850-439-5700 to speak with a specialist about your Pensacola roof.