Skip to Content
Metal Roofs: A Smart Choice in Florida
For a long-time, shingles have been the most popular choice for roofs in Florida, particularly asphalt shingles.  Over the last few years, one type of roof that has been gaining attention is metal.  Kings Roofing is a leading Panama City roofing company that offers several metal roofing options.  We believe there are several reasons for this uptick in popularity, which we'll outline below. 
More Weather-Resistant
Metal roofs have one of the highest wind-resistance ratings amongst roofing materials.  Metal is also a non-moisture absorbing material, so it holds up very well over time no matter how much rain pours down. 
Cracking and peeling can be a common problem with some roof materials due to the Florida heat.  However, that is not true with metal.  It firmly holds up to the hottest and coldest temperatures that mother nature offers.  
As a well-respected Panama City metal roof contractor, Kings Roofing knows how unforgiving the Florida weather can be, so that's one of the biggest reasons we offer metal roofing as one of our roofing options.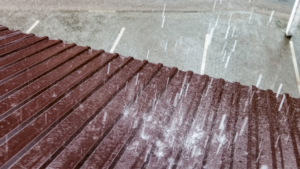 Better Investment
Although metal roofing is typically more expensive than traditional roofing materials, they tend to last longer, which will save you money overall.  You can expect metal roofs in some cases to last up to 50 years! 
Another cost-saver is that metal roofs at times can be installed over existing roofs, so you don't have to worry about paying for your previous roof to be removed.  Once your roof is installed you'll be glad you chose the best metal roof contractor in Panama City, Kings Roofing.
A "Green" Option
If you are looking to lower your utility costs, then a metal roof is a good option.  Asphalt shingles tend to absorb a lot of heat, which can increase the workload on your air conditioner.  That will obviously lead to higher utility bills. 
Any Panama City roofing company knows how hot it can get in this area, so that's why Kings Roofing recommends metal roofing as an excellent option for keeping your home as green as possible.  Also, metal roofing tends to contain more recycled materials than other roofing options, and at the end of their use, metal can be recycled and used for other purposes. 
Contact Kings Roofing
If you are looking for the best Panama City metal roof contractor that offers quality installation, please contact us at Kings Roofing today.  We have three decades of experience as a Panama City roofing company, where we place tremendous value on comprehensive and customer-friendly experiences.