Skip to Content
Tips for Repairing a Leaking Roof
According to a roofing company in Pensacola, you should never try to repair a leaky roof yourself unless you have prior experience. Your roof is one of the most vulnerable parts of your home and could break easily. It suffers through the weather, sun, and even animals running across it. So, there are numerous things that can cause your roof to leak.
At Kings Roofing, one of the top roofing companies in Pensacola, we want to help you keep your home or business's roof in its best possible shape. That's why it's important to hire a roofing contractor to fix your leaking roof as soon as you notice the issue. However, if you have prior roofing experience, you could attempt to repair the leak yourself. We've compiled some tips to make the task easier.
Narrow Down Where the Roof is Leaking From
According to a roofer in Pensacola, it's important to find the source of the leak. One of the best ways to tell your roof is leaking is to look for any dark water spots or water stains on your ceiling or walls. You can also access your home's attic to see if you notice any pooling water.

Assess How Bad the Damage Is
After finding the source of the damage, a Pensacola roofing company suggests assessing how bad the damage actually is. While a leaking roof is never good, it won't cause massive damage if caught in time. If it's just a few minor water stains on your ceiling, it's unlikely that there is any damage to your home's foundation. However, it's always best to call in a professional Pensacola roofer to assess the damage.
It's important to have an experienced roofing contractor perform the repairs, especially if you don't have any prior roofing experience. If you have no prior roofing experience and try to patch the damage yourself, you could actually cause more damage to your home. Call a professional if you don't feel absolutely confident that you can perfectly repair your roof.
If your roof is leaking, it's often a sign of more significant damage; that's why you should contact Kings Roofing, one of the top Pensacola roofing companies. Your roof is one of the most vulnerable parts of your home, and it endures a lot. There are multiple factors that can cause your roof to start leaking, such as severe weather, exposure to sunlight, age, or animals. Hire a roofing contractor immediately to keep your home and family safe.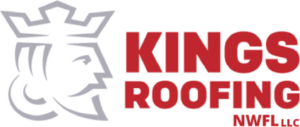 Kings Roofing is one of the best roofing companies in Pensacola, specializing in roof installations, replacements, and metal roofs. We service both residential and commercial buildings in Pensacola, Panama City, Tallahassee, Destin, and numerous other neighboring communities.
You can contact us online today for a free roofing quote or give us a call at 850-439-5700 to speak with a specialist about your Pensacola roof.