Skip to Content
The Most Popular Types of Commercial Flat Roofs According to Roofing Companies in Destin
Many people probably think that commercial flat roofs are pretty much the same. Sure, there are lots of similarities for all models of flat roofs, but roofing companies in Destin know that there are some notable differences as well. In this article, we will cover some of the most common types of commercial flat roofs and some of the benefits of each option. These options are:
Modified Bitumen
TPO
EPDM/Rubber
PVC
Modified Bitumen
This is a roofing material that is comprised of both rubber modifiers and asphalt. Modified Bitumen can be installed in various ways, including hot tar, solvent-based adhesive, sticky backside adhesive, and through a method called rolling & heating. Modified Bitumen is considered one of the easiest roofing materials to repair if it has suffered damage. Destin roofing companies also, like using this material because it is more eco-friendly than other flat roofing options.
TPO
Its official name is "thermoplastic polyolefin," but TPO is a plastic base material that is made in tight sheets and stretched over the roof by roofers in Destin. It is widely known for its overall strength and is estimated to be around three times as strong as other roofing options like EPDM roofs. TPO is also a very reflective material, so it does well at withstanding the sun's UV rays. TPO can also be made up of polyester to help increase durability.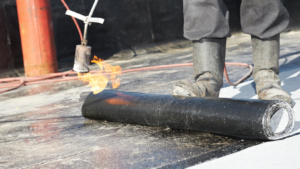 EPDM/Rubber
Ethylene Propylene Diene Terpolymer or EPDM is known as one of the most popular choices for both commercial and residential flat roofs. This rubber material is extremely resistant to UV rays, and the sun has very minimal impact on its overall longevity. A properly installed EPDM roof by a Destin, FL roofing company can have anywhere from a 20-30 year lifespan in most cases.
According to Destin, FL roofing companies, the installation of an EPDM roof is a bit more challenging than with other flat roof materials. Roofers must use a glue-based solvent to hold the seams together, all while making sure that there are no air pockets underneath the roof's surface. It is common to need repairs on EPDM roofs on occasion, but they are typically a pretty routine fix.
PVC
Also known as polyvinyl chloride, PVC is an extremely durable and commonly used flat roof material by Destin roofing companies. PVC is typically applied in one single layer and typically comes in light colors like grey or white. Though there are seams in the material, they usually disappear after the PVC is hot welded. With no visible seams, this makes PVC very resistant to leaks.
PVC is another reflective roofing material, so it helps regulate interior temperatures for your commercial building. Many roofing companies in Destin like working with PVC because its durability ranks well compared to other roofing materials.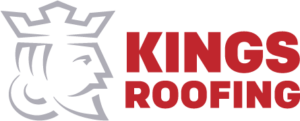 If you are in search of the best roofer in Destin to repair or replace your commercial flat roof, we hope you will strongly consider Kings Roofing. We serve numerous communities in the Florida Panhandle, including Destin, Pensacola, Panama City, and Tallahassee. Our roofing professionals throughout the Midwest are well skilled in roof repairs and replacements, and we would love the opportunity to earn your business.
To get started, give us a call at (850) 215-0423 or contact us online to receive a free estimate.