Skip to Content
The Most Common Types of Flat Roofs for Panama City Roofing Companies
As all Panama City roofing companies know, flat roofs are a popular option in Florida for commercial buildings.  Many consider flat roofs to be one of the most cost-effective options for businesses while still providing the structure and quality needed to protect the structure.   
Flat roofs come in different styles, so it might be a bit of a challenge deciding on which option is best for your building.  Widely regarded as one of the best roofing companies in Panama City, Kings Roofing will explain the different types of flat roofs so that you can make a more informed decision.  Some of the most common flat roofs in Florida are: 
Single

–

Ply Membrane

 

Built

–

Up Roofing (BUR)

 

Modified Bitumen

 

Metal Roofs

 
Single
–
Ply Membrane 
Many Panama City roofing companies recommend single-ply roofing thanks to their longevity.  The roofing material consists of flexible, prefabricated sheets made of synthetic materials that can withstand the harshest conditions.  Single-ply systems are also energy–efficient, which can lead to additional savings on your utility bills.  
Built
–
Up Roofing
One of the oldest but useful commercial roofing methods is Built–Up Roofing (BUR).  Many Panama City roofing companies refer to this design as "hot-mop" or "tar and gravel" roofs.  BUR involves layering asphalt with roofing felt to create a membrane designed to withstand the hot Florida sun.  It is then topped off with a roof coating for an extra layer of protection from the heat.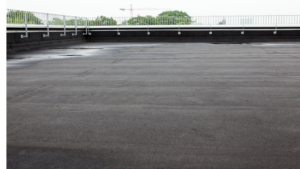 Modified Bitumen
Modified bitumen is like BUR as the process involves layering.  However, modified bitumen has additional materials such as polymers and fiberglass for extra durability.  One layer can have a lifespan of up to 16 years, but a premier Panama City roofing company (like Kings Roofing) knows adding additional layers can extend the roof's life several more years.  
Metal Roofs
As a leading Panama City metal roof contractor, Kings Roofing has seen the popularity of metal roofs skyrocket for Florida homes.  Metal is an excellent choice for commercial buildings as well, as they offer longevity, durability, and heat resistance.  Metal roofs on low-sloped commercial structures help protect against high winds and provide ample drainage during torrential downpours.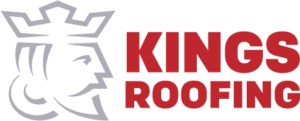 As one of the best roofing companies in Panama City, Kings Roofing can help you determine the best roofing option for your home or commercial building.  Our team has provided unbeatable service to the Panama City, Pensacola, and Destin areas for over thirty years. 
Contact us online today, and a member of our team will reach out to you as soon as possible.  We look forward to doing business with you!