Skip to Content
The Do's and Don'ts of Repairing the Roof on Your Destin Rental Home
Is the roof in your rental home or apartment leaking? You might think that you're stuck waiting on your landlord to fix the problem; however, you may be able to do more than just place pots and pans under the leaks to catch the water.
At Kings Roofing, one of the most trusted Destin roofing companies, we know how aggravating constant leaks can be, especially if you are renting your home. You might feel stuck while waiting for your landlord to fix the problem. However, there might be a few small things you can do to help stop the leaking in your home.
Things You Can Do to Stop Your Roof from Leaking
Destin, FL roofing companies suggest taking the following steps if your roof is leaking:
Contact Your Landlord
You should contact your landlord immediately if you notice cracks or leaks in your ceiling. Although some leaks aren't serious, they have the potential to cause damage to both your home and health. Roof leaks can result in mold growth and fire hazards. Not to mention, they can also cause your roof to warp or rot, leading to structural damage.
If the Leak is Serious, Do a Simple Patch
If the leak is severe, you may be able to perform a simple patch. A Destin, FL roofing company may not recommend this unless you have prior experience. If you have prior roofing experience, you may be able to apply a quick patch on your ceiling; however, double-check with your landlord before doing this.
Place Pots and Pans to Catch the Water
One of the best things you can do if your roof leaks are to place pots and pans down to catch the water. That way, you will have less water damage to your home. This significantly reduces the likelihood of mold and other bacterial growth.
Things You Should Not Do if Your Roof is Leaking
Trying to repair a leaking roof or ceiling is dangerous and should be left to an experienced roof repair company in Destin, FL. The number one thing you should not do is try to repair the leak yourself. This is not only dangerous, but you could end up causing more damage to your home.
A DIY repair to your ceiling can result in many bad scenarios; a few of those include:
Injuries
Someone who is not a trained roofer is more likely to get hurt patching a leaking roof or ceiling. After a storm, roofs are slippery and hard to repair; if you are not trained on how to climb a roof safely, you are more likely to get hurt. Patching your ceiling might also mean climbing a high ladder, leading to an increased risk of falling.
Additional Damage
You should let professional roofing companies in Destin handle the repairs because they understand how to patch your roof correctly. Without experience in roof repair, you are more likely to make the damage worse, and you could end up with extra charges from your landlord.
Problems with Your Landlord
Trying to repair the damage yourself can also put you in an awkward situation with your landlord. Repairing the problem yourself could violate the agreements in your lease, giving them a reason to evict you from the home.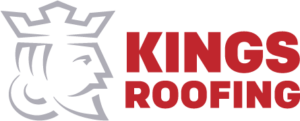 Kings Roofing is one of the leading Destin, FL roofing companies that specializes in roof installations, replacements, and metal roofs. We service both residential and commercial buildings in Destin, Panama City, Tallahassee, Pensacola, and numerous other neighboring communities.
You can contact us online today for a free roofing quote or give us a call at 850-215-0423 to speak with a specialist about your Destin roof.