Skip to Content
The Benefits of a Flat Roof
Whether you need a roof installed for a residential or commercial building, you have an important decision to make before you get too far along.  "What type of roof do I get?"  Kings Roofing, a leading Pensacola Roofing Company, has multiple options for you to consider when making this decision.  One of which is a flat roof.  In this article, we will explain the benefits that come along with a flat roof.  
ACCESS AND MAINTENANCE
Since there is no slope on a flat roof, accessing the roof is relatively easy compared to other styles.  Usually, you only need a simple ladder to get to the roof.  This is very beneficial when it comes time to do basic maintenance like cleaning or checking the gutters. 
Many more people are comfortable accessing a flat roof as opposed to a sloped style.  With that extra stability of a flat roof, it could save you the cost of hiring someone to do a simple maintenance task on your roof.  However, if you are not comfortable accessing the roof, we suggest you call the best roofing company in Pensacola, Kings Roofing, for all of your roofing services.
OPTIONS
As one of the top Pensacola roofing companies, Kings Roofing offers many options when it comes to the materials used for your flat roof.  Those include: 
Ethylene Propylene Diene Terpolymer (EPDM) 
Built-Up 
Rubber 
Tapered
Thermoplastic Polyolefin (TPO) 
Tar and Gravel 
Modified Bitumen 
Felt and Rolled
The specifics of these different types of flat roofs can be found HERE. 
DURABILITY
As we are widely regarded as one of the best roofing companies in Pensacola  Kings Roofing only installs the most durable materials for flat roofs.  One of the most significant benefits of a flat roof is they are known for lasting the test of time, over 30 years in some cases!  Also, the roof composition is relatively easy to maintain on flat roofs, making it a very dependable option.   
SPACE
There are times where there is an element of your house or building that just does not have a good place to go.  Thanks to the easy access of a flat roof, you can utilize the roof for an item such as an air conditioning vent or another piece of large equipment.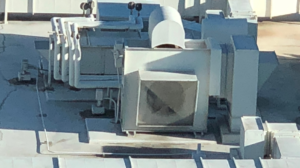 COST
Regarding installation and potential future repairs, flat roofs are one of the more affordable options out there.  There is no need for shingles or other decorative items on a flat roof's surface, which keeps installation costs much more affordable.  Though repairs are rarely needed for a flat roof, when a repair is required it is typically a simple fix for a roofing professional like Kings Roofing, a leading roof repair company in Pensacola.   
 If you are considering a new roof from a Pensacola roofing company, please contact us at Kings Roofing.  We can discuss the benefits of a flat roof or any other style of roof you might be interested in.  With over thirty years of experience in the roofing business, Kings Roofing will help you get the roof that best fits your needs!