Skip to Content
Should You Choose Aluminum or Steel for Your Metal Roof in Pensacola?
As a premier Pensacola metal roof contractor, Kings Roofing knows the benefits of a metal roof are numerous, and many Florida homeowners have taken notice.  Metal is becoming a trendy choice in the sunshine state because of its durability, energy efficiency, fire resistance, and numerous other qualities.
Metal roofs can consist of various materials like galvanized steel, zinc, tin, lead, aluminum, or stainless steel.  Two of the most popular options, according to Pensacola metal roof contractors, are aluminum and steel, and this article will help explain the differences between these two roofing materials.

Aluminum Roofs
Many of the best roofers in Pensacola enjoy working with aluminum because it is widely regarded for its longevity as a roofing material.  Among coastal homes in Florida, aluminum is a common choice because the material resists oxidation and rust, which can be caused by seawater.
Some of the other benefits of aluminum roofs include:
Lightweight – Aluminum material is easier to handle, and maneuver compared to other roofing materials.  The thin material means it will store less heat than thicker materials and cool down more quickly once it is out of direct sunlight.
Energy Efficient – Electricity bills should immediately decrease after installing a new aluminum roof since it is one of the most reflective roofing materials available.  Since less heat is stored in aluminum than other roofing materials, it results in lower interior temperatures, which can prevent your air conditioner from running non-stop day and night.
Flexible – If you are needing a roofing material that can be easily configured to elaborate designs, aluminum is the way to go.  Although steel is a great choice, according to Pensacola roofing companies, aluminum is more versatile and easier to work with.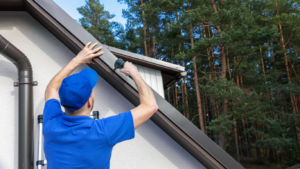 Steel Roofs
If you are looking for the ultimate durability for your roofing materials, your local Pensacola roofing company will probably recommend going with a steel-based metal roof.  This thick, durable material has been known to last as long as 50 years in some cases.
Along with longevity, here are some other benefits of steel:
Value – Compared to other roofing options, steel roofs may require higher costs upfront for installation.  However, the longevity of a steel roof means less maintenance is required, which provides significant value for you as a homeowner.
Fire Resistant – Steel roofs are already known for their extreme durability.  However, when you combine that with a Class-A fire rating, that makes it one of the strongest roofing materials on the market.
Quick Installation – There are typically fewer labor costs to pay your Pensacola roofing company when you choose a steel roof.  There are several brands of steel roofs that use snap-and-lock technology that requires less time installing than other roofing materials.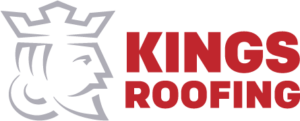 If you are considering a new metal roof for your home, talk to the best metal roof contractor in Pensacola, Kings Roofing.  You can contact us online or give us a call today at (850) 439-5700 to talk to one of our roofing professionals.
We look forward to assisting you.