Skip to Content
Pensacola Roofing Companies On 5 Ways To Tell Your Roof Has Raccoon Damage
Pensacola Roofing Companies On 5 Ways To Tell Your Roof Has Raccoon Damage — Pensacola roofing companies understand how annoying it can be to hear raccoons scampering across your roof, especially at night. Raccoons can cause severe damage to your yard, home, and even your roof. These animals are known to take up residence inside of attics in any way possible, even if that means chewing a hole through your roof.
At Kings Roofing, we take pride in being a trusted Pensacola roofing company, and we want to help keep your home's roof in its best possible shape. Raccoons may be cute, but they can cause massive damage to your home. It's important to have these furry creatures relocated as soon as possible. That's why we've compiled 5 of the most common signs that your roof has sustained raccoon damage.
#1 Torn or Damaged Shingles
According to a leading roof repair company in Pensacola, the roof is the most common way for raccoons to access your home. They tend to chew their way through your shingles and roofing underlayment to access your attic for a warm place to sleep.
Any torn, damaged, or missing shingles could indicate that a raccoon has damaged your roof and taken up home in your attic. Keep an eye out for raccoons in your yard and around your neighborhood.
#2 Roof Holes
More than likely, raccoons aren't going to make large, gaping holes in your roof. According to the best roofing company in Pensacola, they'll more than likely chew a hole just large enough for them to squeeze in and out of. Roofing contractors suggest looking for holes that are only about three to four inches inside.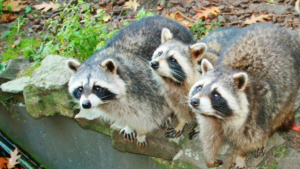 #3 Raccoon Nests
One of the best ways to tell if your roof has sustained raccoon damage is to look for nesting sites. The best roofing companies in Pensacola suggest looking in your attic for raccoon nests. Raccoons not only carry fleas and ticks but can also cause damage to the inside of your home, so it's important to have them relocated as soon as possible.
#4 Torn Roofing Insulation
According to the best roofer in Pensacola, torn roofing insulation is most commonly caused by raccoons or other pests trying to access your home. Raccoons will have to chew through your insulation to access your attic, often taking it to build their nests. Missing or damaged insulation can increase the cost of your energy bill and make it hard for your home to stay at a comfortable temperature.
#5 Animal Droppings Or Urine
If you consistently notice any raccoon droppings or urine around your home, it's safe to guess that your home has sustained some type of raccoon damage. This is because they have probably worked their way into your attic to make their nest. Like any animal, raccoon droppings can carry sickness, so it's important to have your attic cleaned, and the raccoons relocated as soon as possible.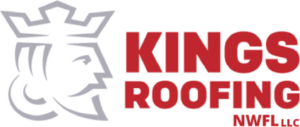 At Kings Roofing, we pride ourselves on our knowledgeable roofing contractors' professional, friendly services, and we strive to be the best Pensacola roofing company. We specialize in roof repairs, installations, commercial, and metal roofs in the Pensacola, Panama City, Destin, Port Charlotte, and Tallahassee areas, as well as other surrounding neighborhoods.
You can contact us online today for a free roofing quote or give us a call at 850-439-5700 to speak with a specialist about your Pensacola roof.