Skip to Content
Most Common Florida Roofing Problems
Although Florida is nicknamed the "sunshine state," it isn't always beautiful and sunny, and any Floridian can attest to this. Between hurricane season, hailstorms, strong winds, thunderstorms, extreme heat, and the occasional tornado, Florida receives some serious weather. And what does this weather do other than interrupt our beach days? It damages our roofs. As the best roofing company in Pensacola, we're here to inform you of some of the most common Florida roofing problems.
Hail Damage
Hailstorms are a common occurrence in Florida, and unfortunately, they can cause severe damage to a roof. When hail strikes a roof made of asphalt shingles, they can create weak spots and loosen the granule. Hail also has the ability to ding gutters and aluminum siding. After a strong hailstorm, it's crucial that you contact one of the best roofing companies in Pensacola for a roof inspection. It's not only asphalt shingles, though, hail can impact metal, TPO and other types of roof coverings.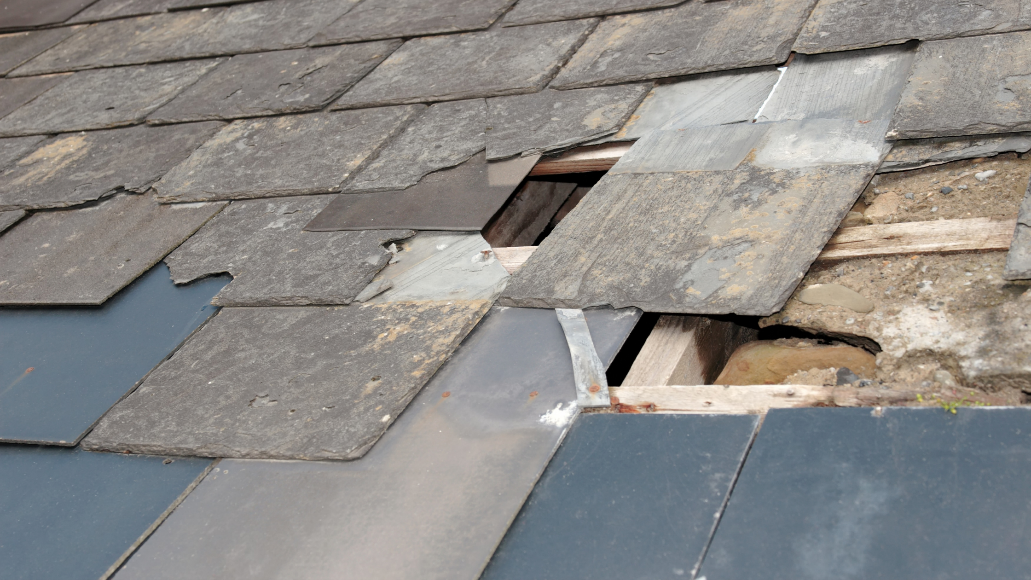 Roof Leakage
In Florida, we experience just as much rain as we do sun, which makes roofs quite susceptible to leaks and water problems. Unfortunately, though, a roof leak can be challenging to detect. This is why it's crucial to have the best roofer in Pensacola come to your home at least once a year to conduct a thorough inspection to check for any possible water damage or places on your roof that may be vulnerable to leaks in the future. They can provide an inspection and thorough estimate of any roof repairs needed.
Long Term Wear and Tear
As a Pensacola roofing company, we have noticed that many people hold off on replacing their roof, which causes long-term wear and tear and significant problems down the road. The longer you wait to either repair damage on your roof or replace it entirely puts you, your family, and possessions at risk. Such things that can occur include water damage, mold, and ventilation issues. Don't ever wait to call a roof repair company in Pensacola when your roof has any of the most common Florida roofing problems. We completely understand the fear of expensive repairs. That's why we offer financing, as well as the option to go through your insurance company.
Like we mentioned earlier, Florida receives a variety of severe weather conditions. As a homeowner, you must constantly be on the lookout for roof problems. Catching damage early on will benefit you before the next time a strong storm with high winds and rain rolls through. As one of the best Pensacola roofing companies, we're here to help you and your family stay safe. Give us a call at 850-439-5700  for a comprehensive roof estimate. We will provide a detailed report, and a Pensacola metal roof contractor will let you know of any damage that is found on your roof. For roofing services from a residential and commercial roofer in Panama City, Pensacola, Destin, Navarre, or Port Charlotte, contact us today!