Skip to Content
Mold On Your Ceiling? Call a Roof Repair Company in Pensacola
Noticing mold on your ceiling is a precursor to a bigger problem, a leaking roof. Pensacola roofing companies know that a leaking roof can lead to serious problems, such as mold growth, wall stains, and permanent structural damage. Leaving a leak untreated for too long can cause the issue to get worse over time.
At Kings Roofing, a leading roof repair company in Pensacola, we know how important it is to keep your roof in its best possible condition. That's why, if you notice any mold growth, dripping water, or discoloration, you should immediately contact a trusted Pensacola roofer. Try and be proactive about this issue, so that you can prevent further, irreversible damage to your home.
Common Signs of Mold Growth on Your Ceiling
When there is a leak in your roof, water will slip through the cracks and settle into your home's attic. The dampness from this leak will cause mold to grow and seep into your home's ceiling. Common signs of mold growth that Pensacola, FL roofing companies see are brown and yellow spots on the ceiling and circular growths. Mold can only grow in certain areas, such as under the attic or under a room with running water, and will appear in patches.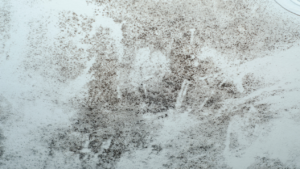 What a Roofer in Pensacola Wants You to Know About Mold Growth
Sometimes you need to do more than clean the mold off your ceiling. If the area is still damp, the bacteria will return, and you will be back at square one. The best thing to do is get your leaking roof repaired and then clean the mold from your ceiling.
Mold growth can cause people to become severely sick, especially if they are a child or elderly. Immunosuppressed people are also harshly affected by mold and could show more severe symptoms. Common symptoms of a sickness caused by mold growth are:
Wheezing
Dry cough
Sore throat
Chest tightness
Itchy, watery, red eyes
Shortness of breath
Sinusitis
Skin rash
Dry skin
If you notice any of these symptoms, you should seek medical attention. You should also call a roof repair company in Pensacola, FL, to check your home for any leaks or mold growth.
The Best Way to Get Rid of Mold on Your Ceiling
The best way to rid your home of mold is to hire a roofing company in Pensacola to repair your leaking roof. It's always best to let an expert handle the situation, and the sooner you fix the leak, the less likely you will have to face other issues, such as a total roof replacement.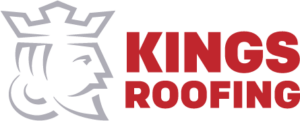 Kings Roofing is a leading roof repair company in Pensacola, specializing in roof installations, replacements, and metal roofs. We service both residential and commercial buildings in Pensacola, Panama City, Tallahassee, Destin, and numerous other neighboring communities.
You can contact us online today for a free roofing quote or give us a call at 850-439-5700 to speak with a specialist about your Pensacola roof.