Skip to Content
Four Things That Can Put Your Roof in Danger 
Your roof is one of the biggest keys to protecting your house from outside elements.  Obviously, an older roof is more susceptible to damage, cracks, and leaks.  If you have a new roof, that does not mean it's ok to neglect it and assume everything is fine.  There are always elements of nature that can affect the quality of your roof.    
As one of the top Pensacola roofing companies, Kings Roofing has identified some of the more common issues that may build–up on or near your roof.  Plus, we have added some tips on how to prevent the problem before it happens. 
Some of the most common items are: 
Trees 
Moss 
Algae 
Needles and Leaves 
Trees
Although great for landscaping, appearance, and fresh air, trees can be detrimental to your roof.  Many trees are quite tall, and if they were to collapse during a storm, it would leave your roof very much at risk for damage. 
Even if just a few branches are compromised, branches are still typically heavy enough to create holes in the roof or damage shingles.  Monitor the growth of the trees that surround your home and have any branches trimmed that you feel may leave your roof at risk. 
Moss
As a leading roof repair company in Pensacola, Kings Roofing knows that moss can be a problem for your roof.  Moss tends to go most rampant in areas with lots of moisture.  With an average yearly rainfall of over 60 inches in our area, as well as lots of humidity,
Pensacola is very familiar with this nuisance.  Moss not only poses a risk to your roof by weakening it but also makes the roof less appealing. As a longstanding Pensacola roofing company, Kings Roofing knows that moss damage can be prevented if noticed early enough to be treated.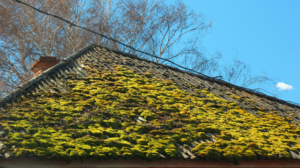 Algae
Unlike moss, algae are evident during the summer. Algae is not considered to be as dangerous as moss but can cause substantial damage if not well treated.  As a leading roof repair company in Pensacola, Kings Roofing suggests treating algae on your roof by spraying a combination of water and bleach, and let it apply for approximately 20 minutes.  Once this is complete, you can rinse off with low–pressure water. 
Needles and leaves
Leaves and needles will not damage your roof directly as they are very light and pose a minimal threat at first.  If an abundance of leaves builds up on your roof, over time they can acquire moisture, which could weaken or damage the shingles.  If you ever notice a large amount of leaves building up in one spot, we recommend removing them.   
As one of the premier Pensacola roofing companies, Kings Roofing can help you with any questions or concerns you have regarding your roof.  We strive daily to be the best roofing company in Pensacola.
Please contact us today, and one of our team members will be glad to assist you!