Skip to Content
Different Styles for Your Pensacola, FL Metal Roof
There are different styles of metal roofs to choose from when your Pensacola roofing company is installing your roof. You can choose between roof styles, coatings, and colors to customize your home to your liking.
There are five components that make up a painted metal roof. These components are the topcoat, primer, pretreatment, metallic coating, and steel. You want to ensure that all of these components are high quality, so Pensacola roofing companies can easily install or replace your metal roof.
Did you know that there are different types of metal roofs? Take a look below and see which metal roof is right for your Pensacola, Florida home.
Different Types of Metal Roofs
Exposed Fastener Panels
This type of roof is great if you have a low budget. The exposed fastener panels are installed over decking and attached with fasteners. They are typically 36 inches wide and have a long life expectancy. They come in a wide variety of colors and have a classic design that makes your home look elegant and chic.
If you want to install a metal roof, but are on a tight budget, ask a Pensacola roofing company about an exposed fastener panel roof.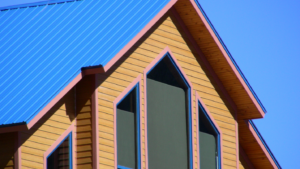 Standing Seam Systems
These types of metal roofs are versatile and work great for both residential and commercial buildings. The standing seams lock the panels together, so the roof does not need exposed fasteners to hold it in place. They also come in a variety of colors.
Special Roofing Panel Styles
These types of metal roofs are easier to customize; they can also be easy for a roof repair company in Pensacola, FL to fix if needed. These types of roofing panels are made to look like traditional materials used for roofs, such as slate and ceramic tile.
They also come in a wide variety of colors and finishes and have a decades-long lifespan. Roofing panels are widely known for being more resistant to hail and debris than standard roofs. And, if your roof is damaged, it is easy for a roof repair company in Pensacola to locate where the damage is.
What Do You Need to Paint a Metal Roof?
Painting your metal roof is also an easy way to match it to your home. Here is what you need to paint your metal roof:
Topcoat
Primer
Pretreatment
Metallic coating
There are many different types of metal roofs to choose from. You can even customize color and metal patterns to make your roof look the way you envisioned. Contact a Pensacola roofing company today to see which metal roof best fits your home!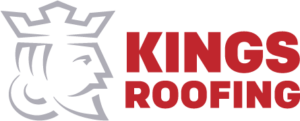 If you are looking for the best roofer in Pensacola, call Kings Roofing for friendly, professional service. We service Pensacola, Panama City, Tallahassee, Destin, and many other surrounding communities.
Contact us online to get started today or give us a call at 850-439-5700 to talk to a professional roofing contractor and to get a quote on your new metal roof.