Skip to Content
Destin Roofing Companies Discuss Hail Damage to Your Pensacola Roof
According to a roof repair company in Destin, FL, roof repairs can come in numerous forms and can be caused by several factors. One of the most common causes of roof damage is hail, and it could be a costly fix. Unfortunately, there is not much you can do to prevent hail damage, but it's crucial to spot it.
At Kings Roofing, we take pride in being a leader of Destin roofing companies, and we want to help keep your roof in its best shape. Unfortunately, it is impossible to protect your roof from the weather, so it is vital that you can spot the signs of damage storms left behind. That is why we have compiled some tips on how to tell if your Pensacola roof has hail damage.
Broken or Missing Shingles
According to a leading Destin roofing company, missing shingles are a sure sign that your roof has faced damage. Often, hail lands on your roof hard enough to crack or even dislodge your roofing shingles. This may not sound like a cause for concern, but your roof's shingles are an additional layer of protection against the elements.
If your shingles are broken or missing, your roof is more susceptible to severe damage. Not replacing your shingles means that your roof is more likely to face structural issues which could eventually lead to it collapsing.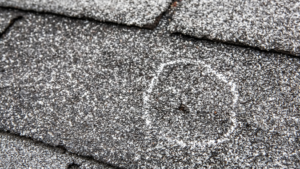 Roof Leaks
A trusted roofer in Destin, FL, encourages you to look for leaks in your ceiling after a hailstorm rolls through. Many times, if your roof has faced severe damage during a storm, a leak is a tell-tale sign. Unfortunately, there isn't much you can do to prevent these leaks from happening, but they should be dealt with quickly.
It's crucial to contact roofing companies in Destin the moment you notice any leaks after severe weather. Letting these leaks go unfixed can leave your roof vulnerable to more damage in the future, and it could be a costly fix.
Your Roof Isn't Draining Water
According to a leading roofing company in Destin, FL, your roof might have hail damage if it isn't draining water like it's supposed to. This means that the granules on your roof's shingles were damaged in the storm and have become dislodged. This makes it harder for your roof to drain away the moisture, which will start building up and cause considerable damage to your roof.
Hail damage is dangerous to your roof, so it's crucial to contact a roofing contractor immediately after noticing any of these warning signs.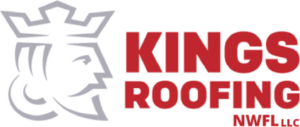 At Kings Roofing, we pride ourselves on our knowledgeable roofing contractors' professional, friendly services, and we strive to be one of the best Destin roofing companies. We specialize in roof repairs, installations, commercial, and metal roofs in the Destin, Pensacola, Panama City, and Tallahassee areas, as well as other surrounding neighborhoods.
You can contact us online today for a free roofing quote or give us a call at 850-215-0423 to speak with a specialist about your Destin roof.