Skip to Content
Common Types of Commercial Roof Repairs According to a Destin Roofing Company
According to a leading Destin roofing company, your commercial roof can last over twenty years if properly maintained. Many roofing companies provide you with a warranty on any future repairs caused by forces outside of your control. Severe weather like hail, rain, or heavy winds can cause significant damage to your business's roof; it's vital to get this damage repaired immediately to prevent any further damage from spreading.
At Kings Roofing, we pride ourselves on being a leader of Destin roofing companies, and we want to help keep your commercial roof in its best possible shape. We understand that many of the elements that cause roof damage are out of your control. However, it's crucial to ensure that you notice any damage that has occurred to your commercial roof; that's why we've compiled a list of some common repairs that your commercial roof will need.
Flashing Repairs
According to a leading roof repair company in Destin, FL, flashing repairs is a common issue roofing contractors have to fix. When your new roof is laid, your roofing contractor will use flashing around chimneys, dormers, walls, and other areas where your roof connects to a vertical plane.
If not sealed correctly, water can seep into these cracks and cause significant damage to your building. Having your commercial roof's flashing repaired immediately is crucial to avoid the risk of structural damage, mildew, and mold growth.
Leak Repairs
Another common repair a roofing company in Destin, FL, has to make on commercial roofs is patching and repairing any leaks. It's easy to find leaks on commercial roofs; you can easily find water stains and puddles on the ground. Leaks are usually signs of more significant damage, like cracks or holes, so it's crucial to reach out to roofing companies in Destin immediately.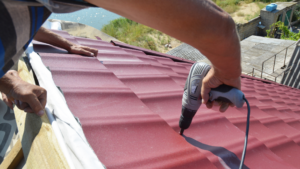 Gutter Maintenance
A roofer in Destin, FL, will perform gutter maintenance on your building's commercial roof to prevent water buildup from occurring. If your gutters are clogged, excess rainwater and other moisture have no place to go, so it settles into your roof. This can easily compromise your roof's structural integrity and make it more susceptible to damage or collapse.
Poor Ventilation Problems
If your home has inadequate ventilation, you can actually cause significant damage to your roof. Proper ventilation is the most important aspect of keeping your roof in its best condition, so it's crucial that air is able to enter and leave your commercial building as necessary. Without proper ventilation, your roof won't last its entire lifespan.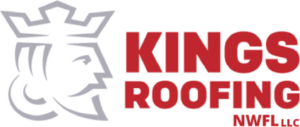 Hire a Leading Destin Roofing Company to Repair Your Commercial Roof
At Kings Roofing, we pride ourselves on our knowledgeable roofing contractors' professional, friendly services, and we strive to be one of the best Destin roofing companies. We specialize in roof repairs, installations, commercial, and metal roofs in the Destin, Pensacola, Panama City, and Tallahassee areas, as well as other surrounding neighborhoods.
You can contact us online today for a free roofing quote or give us a call at 850-215-0423 to speak with a specialist about your Destin roof.