Skip to Content
Common Roof Issues All Homeowners Face
A Pensacola, FL roofing company knows that there are a lot of issues homeowners face. Unfortunately, roof problems come with the territory of owning a house. Roof issues can be caused by deterioration over time or damage after a storm.
Roof damage can be costly, so it's important to get it repaired immediately. According to a Pensacola roofing company, you should look for damages like cracks, holes, and leaks. Your roof could also experience shrinking and falling shingles.
At Kings Roofing, a trusted roof repair company in Pensacola, FL, we want you to know that roof issues are common. You will likely have to have your roof repaired at some point before it is eventually replaced in the future.
Below are common roof issues all homeowners face.
Ceiling Leaks
According to roofing experts, leaks in your ceilings can indicate serious roof problems. Leaks are a common problem and could be caused by numerous things. Standard leaks stem from broken shingles, cracked flashing, or cracks in your roof.
Holes in Your Roof
Holes in your roof are an obvious cause for concern. According to Pensacola roofing companies, holes can be caused by drill holes from repairs that have expanded over time. Animals, such as woodpeckers, can also cause holes in your roof.

Clogged Gutters
Clogged gutters are a common roof issue. Water can back up and seep into your roof if you leave your gutters clogged for too long. This can cause water stains, discoloration, and interior damage to your home.
It's essential to clean your gutters at least twice a year. Roofing experts suggest cleaning them once in the spring and again in the fall.
Shingle Shrinkage
According to a roofer in Pensacola, shingles can shrink in the sun. This can lead to your roof deteriorating or cracking. It also causes critical roofing materials, such as flashing, to break. This leaves your roof more exposed to damage.

Falling Shingles
Over time, your shingles can start to fall off your home. This is due to the constant absorption of the sun's UV rays. A good indicator of missing shingles is roof discoloration.
Can Your Prevent Roof Damage?
According to a roofer in Pensacola, FL, you cannot completely prevent roof damage. However, there are ways to reduce the risk.
Having a contractor regularly inspect your roof is a great way to catch damage before it becomes serious. It's also important to have any roofing issues fixed immediately. Roof damage can be expensive, so it's best not to wait.
All homeowners face roofing issues, so it's important to know you're not alone. Whether it's caused by severe weather or deterioration over time, roof damage is seemingly inevitable.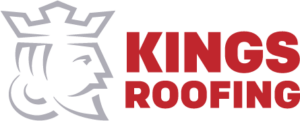 Kings Roofing is a leading Pensacola roofing company specializing in roof installations, replacements, and metal roofs. We service both residential and commercial buildings in Pensacola, Panama City, Tallahassee, Destin, and numerous other neighboring communities.
You can contact us online today for a free roofing quote or give us a call at 850-439-5700 to speak with a specialist about your Pensacola roof.