Skip to Content
Choosing The Right Roof Color
Just like picking the right color for your home is important, so is choosing the right roof color. You want your new roof to complement your home and increase its curb appeal. Although it may seem insignificant, the right color material can drastically change your home's look and boost its resale value. Unfortunately, deciding it's time for a new roof can feel dreadful, and knowing which color to choose from can make the experience even more stressful. To make your roofing experience a pleasant one, our Panama City metal roof contractor, has a list of tips for choosing the right roof color.  
Know Your Roof 
Not all roofs are the same, so it's important that you know what kind of roof you have. For instance, is your roof flat, an A-frame, a hip, or a combination? The material and color you choose will largely depend on the style of your roof, as a flat roof and sloped roof require entirely different materials, which will also determine your color options. Choosing a color based on your home's architectural style is a great first step.  
Look 
At 
Your 
Neighbors
'
 Roofs
If you have a hard time coming to a conclusion on what roof color your Florida home should have, look to your neighbors. Looking at what color roof your neighbors have is an excellent determinant on what route you should go. Your neighborhood may also have certain restrictions on what color roof you can have, so you might want to check with your neighborhood association. 
House Color and Building S
tructure 
The color of your house and its overall structure are both important determining factors in what color roof you should choose. Do you have a red brick house? Then black, grey, or dark brown shingles are a good choice for you. Do you have a white or beige house? Then your color palette is much broader for you to choose from, as white homes look good with nearly any color, depending on the architecture of your home. Luckily, a roofer will give you their expert opinion on the right color roof depending on the style of your home.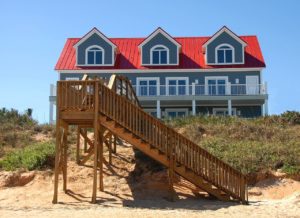 E
nergy 
Efficiency
Dark-colored roofs absorb heat, so if possible, it's a good idea to choose a lighter color shingle, especially in Florida. A light color, like white, will create a cooling effect on your home, reducing your electricity bills by a decent amount. As a Florida resident, energy efficiency should be important to you. When you work with Kings Roofing – a Panama City roofing company– we will discuss with you the different options you have when it comes to energy-efficient roofs. 
Check With Your Homeowners Association 
Many neighborhoods have specific rules and covenants regarding acceptable paint and roof colors. Some home associations want all homes in the neighborhood to look similar. This goes back to the suggestion of looking at your neighbor's roofs to get a good idea on what will be acceptable. 
Talk T
o
 A Roof Contractor
Roofing contractors are professionals that install and repair roofs for a living. They will have a good idea of what type and color roof will compliment your house the best. As one of the best roofing companies in Panama City, the experts at Kings Roofing are happy to discuss your options with you as we have the best knowledge on roofing in your area. For roofing services from a residential and commercial roofer in Panama City, Pensacola, Destin, or Port Charlotte, contact us today!