Skip to Content
Checking Your Roof After the Storm 
In Florida, we sure do get our fair share of weather.  As a leading roof repair company in Destin, Kings Roofing has been around for over thirty years to experience mother nature's impact on our area.  With an average rainfall of over sixty inches per year in the Destin area, that can take a toll on your roof.  Not to mention, there is always the threat of tropical storms given our geographic location. 
So, say your home was recently in the path of a severe thunderstorm.  Everything looks okay on the outside, but you are still a little concerned about the integrity of your roof.  What should you do to make sure it is still in good shape?  Here are a few items that can help you get some answers. 
Start on the Inside
Damage to a roof can extend beyond just the outside.  Some warning signs of potential roof damage could be: 
Signs of moisture in the attic or rooms on the top level 
Yellow or brown stains on the ceilings or walls 
Large bubbles or peeling paint in the drywall 
Damp beams, rafters, and insulation in the attic 
There are also cases where the damage cannot be seen.  Check your energy bill costs in the weeks following a big storm.  If you see a spike in costs, then there could potentially be unseen storm damage.  If you see significant changes like these please give one of the leading Destin roofing companies a call, Kings Roofing.
Wind Damage
If you have recently experienced a storm with gusty winds, your roof's foothold may have been damaged.  Gusty winds can separate the foothold from the rest of the roofing material.  A problem with the foothold can cause shingles to be damaged and can even bend a metal roof.  If this is the case, you may need to reach out to a Destin roofing company like Kings Roofing. 
Tree branches and debris can also be blown onto roofs.  Ensure that trees are properly trimmed and that dying trees are removed to prevent them from falling on your roof.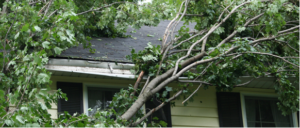 Rain
As a leading Destin roofing company, Kings Roofing suggests keeping an eye on items that may show deterioration over time due to excess rainfall.  Some specific areas to monitor are: 
Chimneys 
Gutters 
Downspouts 
Fascia and Soffits 
Ridge Vents 
Roofing Cement

 
Act Fast, Prevent Additional Costs
If you see any signs of damage, we suggest reaching out to one of the premier roof repair company in Destin, Kings Roofing.  Doing repairs or inspecting your roof is risky for someone without experience, and that is where we come in.  
Contact us at Kings Roofing, one of the best roofing companies in Destin, and we will ensure that your roof is structurally sound after the big storm.